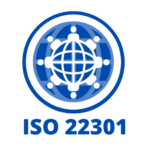 Business Continuity Management System
ISO 22301 CERTIFICATION SERVICES IN KUWAIT
ISO 22301 provides a framework to plan, establish, implement, operate, monitor, review, maintain and continually improve a business continuity management system (BCMS). It is expected to help organizations protect against, prepare for, respond to, and recover when disruptive incidents arise.
What is ISO 22301 Business Continuity Management System?
ISO 22301 is an International Standard for Business Continuity Management Systems (BCMS). Business Continuity Management System intends to protect organizations from a wide range of dangers related to downtime, which can happen due to unexpected disasters or disruptions. Interruptions to the business can result in data risk breakdown, profit loss, and unsuccessful to deliver regular client services according to the service level agreements.
ISO standard is the best standard for your association if you have to exhibit to partners that your organization can quickly overcome operational interruption to provide continued and effective services. BCMS ISO 22301 certification will direct an organization on how best to plan for such eventualities.
ISO 22301 empowers you to react effectively and speedily dependent on the methodology that applies previously, during and after the event. Implementing the business flow plan within your company indicates that you are set up for the unexpected. Business Continuity Management Strategy ensures you that your organization will keep on working without any impacts, troubles, and losses.
Why is business continuity important for the Organization?
Being certified against BCMS ISO 22301 provides you with the power of giving a premium level of services to your investors regardless of the conditions. ISO 22301 BCMS recognizes you the capability to safeguard data backups, reduce major losses, and increase the recovery time of critical faculty.
With ISO 22301, you will upgrade your skills and knowledge; you will be able to advise your company on best practices in the management of business continuity. Given that, you will develop your capacity to analyze and make decisions in the context of business continuity management.
Benefits of ISO 22301 certification in Kuwait
Why ISO 22301 Certification?
By getting ISO 22301 certified, shows the organization's resilience to withstand crisis and recover its business. It creates reliability in business activities for the stakeholders, interested parties, employees, and customers.
ISO 22301 Certification why and benefits to you and your customer
To Respond, Resume and Recover the business from a critical situation
Take a proactive approach to minimize the impact of incidents
Evaluate business impact analysis
Identify and assess the risk
Conduct exercises and tests
Evaluate the performance with respect to BCMS
Compliance with legal and other requirements
How to get an ISO 22301 certification in Kuwait?
Your organization can get BCMS ISO 22301 certified by choosing the best ISO consultation firm in KUWAIT. BWA is the best ISO 22301 certification consultancy in Kuwait with an impeccable experience of helping the organization to get ISO 22301 certified quickly and easily.
We help you get through an easy procedure that allows your firm to obtain ISO certification. Our team is specialized in Business Continuity Management Systems and gives a detailed study of your organizational activities along with documentation of the procedure under ISO 22301 standard requirements. We also guide the implementation of the Business Continuity Management Systems standard and providing insights for better management of resources. Our systematic approach ensures that you obtain ISO 22301 certification at first attempt.
Initially, the consultant studies the business activities at your organization and identifies the gap existing in the current system compared to BCMS standard requirements. Later, he interacts with the organization, evaluates the business impact analysis, and prioritize the risks associated with their business. He helps to develop a methodology, to strengthen the company's resilience with comprehensive business continuity solutions.